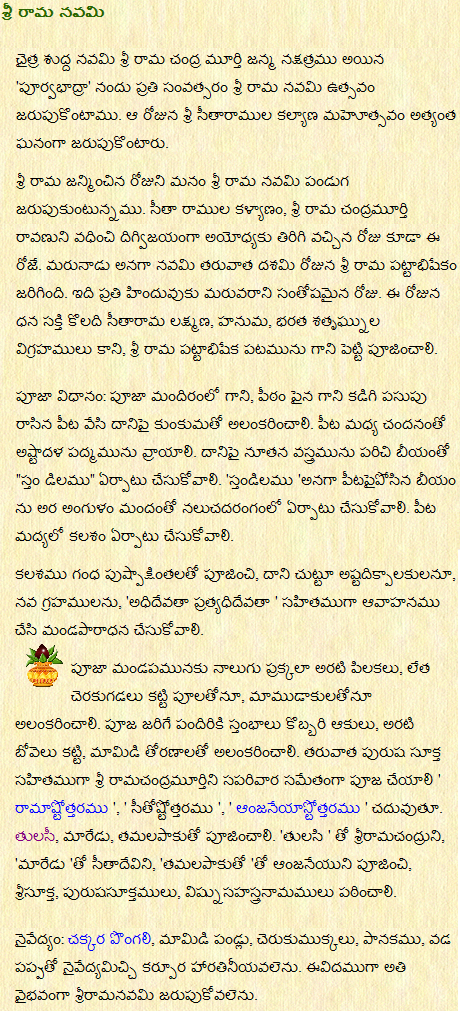 Sri Rama Navami


'Chaitra Suddha Navami' of 'Purvabhadra', the birth star of 'Sri Rama', that is when we celebrate the festival of 'Sri Rama Navami'. On this day the 'Kalyaanam'(wedding) of Sri Rama and Sita ia performed with grandeur

The day when 'Sri Ramachandra murthy' was born is celebrated with reverence as 'Sri Ramanavami'. The wedding of Sri Rama and Sita devi, and the return of Lord Rama after conquering Lanka and vanquishing the cruel king Ravana also falls on the same day. The next day ie., 'dasami' the day after 'navami' is when Lord Rama was crowned king. This is such a happy and auspicious occasion for all Hindus. This day people spend accordingly to buy the idols of Sri Rama, Devi sita, Lord Lakshmana, Hanuma, Bharatha and Satrugna and by reenacting the crowning ceremony and pray.


Puja procedure: The place where the puja is being performed is cleaned and a 'peeta' (small table about a few inches high) is placed and turmeric is applied to it, it is then decorated with 'kumkuma' (red powder). The middle of the 'peeta' an 8 petal flower is decorated with sandalwood. 'kalasam' is arranged in the middle of the 'peeta'.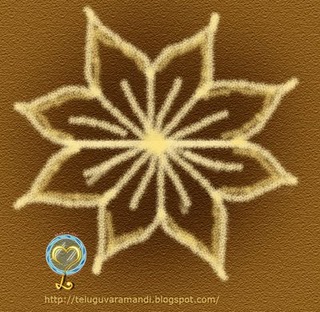 'kalasam' is adored with sandalwood paste and flower, then we place and honour 'Astadikpaalakulu' (guardians of the directions), 'Navagrahaalu' (Nine planets), ' Aadidevataa pratyadidevatalu' (deities) and worship them.

The puja altar has banana leaves, sugarcane stems tied on four sides and decorated with flowers and mango leaves. The pillars are also decorated with coconut leaves, stems of banana trees. Next everyone in the family sit together and worship Lord Rama by reciting the 'Ramaastotharam', 'Sitaastotharam', 'Aamjaneyaastotharam', and offering 'tulasi', 'maaredu', 'tamalapaaku'. 'Tulasi' is for Sri Rama,'maaredu' is for Mother Sita, 'tamalapaaku' is for Amjaneya (hanuman) 'srisuuktam', 'purushasuuktam' and 'vishnusahastranaaman' is also recited.

Nivedyam(offering): 'chakkara pongali'(sweet rice and moongdal), Mango fruit, sugarcane pieces, 'paanakam' (sweetened jagarry water), 'vadapappu'(soaked moongdal with little pieces of jaggery and pieces of coconut) is the offering. Then we give 'harati' (showing light) This is the way in which we celebrate this auspicious day.